Rooted in a tradition of care and compassion, the Mission of CORA Services is to assist children, youth and families experiencing emotional, academic and social challenges which impede their development and productivity. A private, not-for-profit service organization located in Philadelphia, PA, CORA Services provides an array of comprehensive professional services focused on prevention, intervention, remediation and referral assistance.

New Foundations Inc. believes that foster family based treatment is the best way to heal children and their families and is the key to reunification. It is important that foster families are well educated about issues children are dealing with and that they have realistic expectations of foster care. We are looking for families who are committed to our children and are willing to learn how to meet the challenges of foster parenting.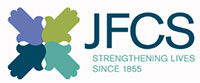 Jewish Family and Children's Service of Greater Philadelphia
Jewish Family and Children's Service of Greater Philadelphia has a unique and vital mission: to strengthen families and individuals across generations and cultures to achieve stability, independence and community.

Catholic Social Services of the Archdiocese of Philadelphia continues the work of Jesus by affirming, assisting, and advocating for individuals, families, and communities.